"One less car on the road is one less worry for us"
For many of us, the transport police mostly conjure up images of motorway laybys and speed cameras. However, traffic officers also work with communities to reduce road danger for vulnerable road users and support active travel as a means of reducing demand on police resources.
PC Mark Hodson, a traffic officer and evidence-based policing practitioner with the Central Motorway Police Group (CMPG) in the West Midlands, recently gave some insights into the benefits of active travel to both communities and the police.
Actively reducing demand on police resources
According to PC Hodson, active travel reduces demand on police resources as people walking, wheeling, scooting and cycling (sometimes called vulnerable road users) cause relatively few issues on the roads. These modes of transport are less of a burden on stretched police resources as they pose far less risk to other road users than motorised transport.
This view is supported by a study published by the independent Parliamentary Advisory Council for Transport Safety (PACTS). The study, What kills most on the roads? New analysis for the new transport agenda (November 2020), analysed the road casualty figures for 2019 to provide a breakdown of which vehicle types are most likely to cause harm.
According to PACTS, "Most people who die on the roads are much more likely to be killed in a car, or by a car, than any other mode. By contrast, pedestrians and cyclists are rarely involved in collisions that result in the death of other road users."
The study revealed that:
Passenger cars are by far the mode most frequently involved in fatal collisions; car drivers are almost equally likely to be killed in accidents as they are to kill other road users
Cars are involved in the majority of vulnerable road user deaths (to be expected, as cars account for 82% of vehicles on the road)
In 2019, more people were killed in car-pedestrian (305 – over five a week), car-car (227), single car (237), and cars in 3+ vehicle collisions than in any other collision types
3+ vehicle collisions, single vehicle collisions and collisions with HGVs are also involved in a large number of vulnerable road user deaths
In fatal collisions between motor vehicles and pedestrians or cyclists, it is almost always the pedestrian or the cyclist who dies, not the occupants of the motor vehicle: 3 people in motorised vehicles were killed in collisions with pedestrians and cyclists in 2019, while 517 pedestrians and cyclists were killed by motorised vehicles (just under ten a week)
Very few vulnerable road user deaths resulted from collisions with pedal cycles or motorcycles 50cc and under; 5 pedestrians were killed in incidents involving cyclists in 2019
Most deaths associated with walking, cycling or motorcycling are of the pedestrians or riders themselves
Sources: PACTS study, thisismoney.co.uk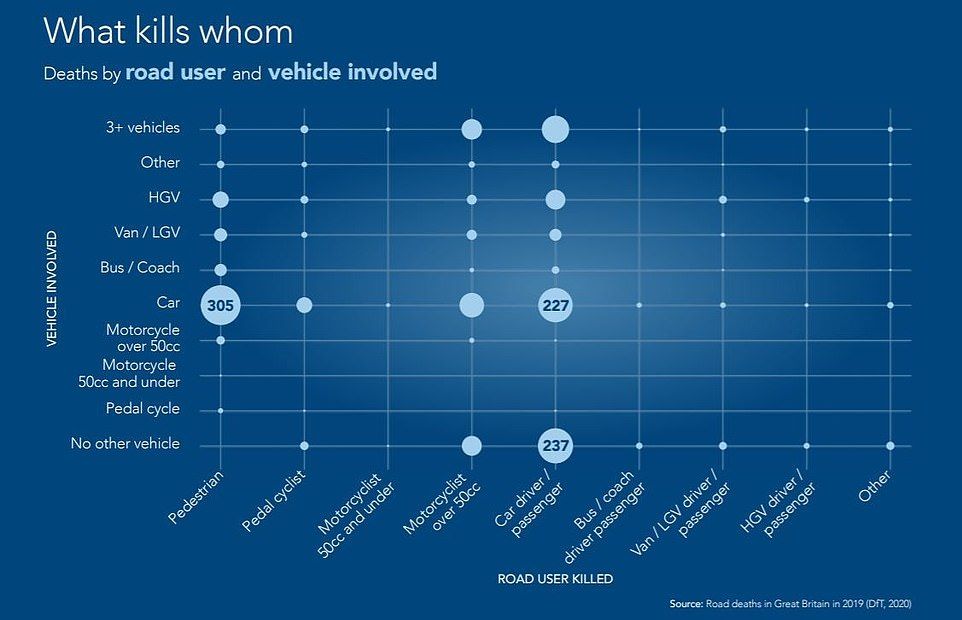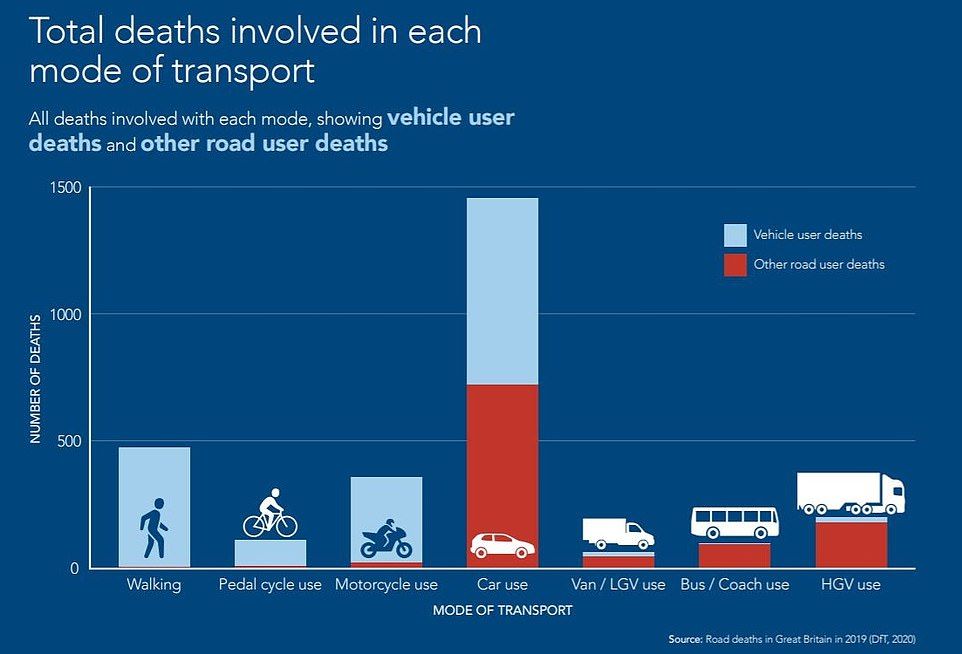 High cost of collisions
In addition to the cost to the wider community, the policing resources and departments involved in dealing with a fatal road traffic collision are on a par with those required in a murder investigation. The CMPG therefore works with communities to support a 'modal shift' to active travel where possible: "One less car on the road is one less worry for us," says PC Hodson.
PC Hodson gave the example of 40,000 football fans spilling out of a stadium after a match, effectively pedestrianising the surrounding area for a time. This doesn't cause too much concern for the police as, even though a large number of people are all in the same place at the same time, it's unlikely anyone will get hurt.
The role low traffic neighbourhoods play in reducing road danger and street crime
Research conducted by Anthony A Laverty, Rachel Aldred and Anna Goodman in 2021 examined the impact on road traffic injuries of introducing low traffic neighbourhoods in Waltham Forest, London, using Stats19 police data 2012-2019.
The researchers summarise their findings as follows: "We find a three-fold decline in number of injuries inside low traffic neighbourhoods after implementation, relative to the rest of Waltham Forest and the rest of Outer London. We further estimate that walking, cycling, and driving all became approximately 3-4 times safer per trip. There was no evidence that injury numbers changed on boundary roads. Our findings suggest that low traffic neighbourhoods reduce injury risks across all modes inside the neighbourhood, without negative impacts at the boundary."
The study doesn't address the specific reasons for this reduction in injuries associated with LTNs. However, as most collisions occur at junctions (as is also the case in Headington), in addition to the safer conditions created for people walking, wheeling and cycling within the LTN areas themselves, it's likely that the lower number of vehicles entering and exiting boundary roads as a result of the LTNs plays a role here.
Eyes and ears everywhere
According to PC Hodson, criminals don't like to be seen or heard, so they don't like streets that are busy with passersby. People out on the streets, rather than in cars, are more aware of what's happening around them. They therefore act as a deterrent for criminal activity – the principle of safety in numbers in action.
A recent study by Anna Goodman and Rachel Aldred backs up this assertion, finding that overall the introduction of an LTN in Waltham Forest was associated with a 10% decrease in total street crime, with this effect increasing with a longer duration since implementation (18% decrease after 3 years).
Mental health benefits of active travel
Finally, as is often reported, cuts in funding for local authorities mean police officers are increasingly the front line when it comes to managing mental health issues in the community. PC Hodson therefore also refers to the well-established benefits of regular exercise, in this case through active travel, for both physical and mental health.
You can hear PC Hodson's insights in this film. Although the film is long, PC Hodson's introduction is right at the start and is relatively short; he goes into greater detail about different police operations to support active travel in the second part of the recording:
Related reading
The updated Highway Code that came into effect at the end of January established a new Hierarchy of Road Users in recognition of the fact that road users who pose greater risks to others have a higher level of responsibility: