Why do we need LTNs?
The hidden costs of increased car use
Private car use has risen dramatically over recent decades and adding road capacity has simply led to more of the same. It's time for a different, proven approach to reducing traffic.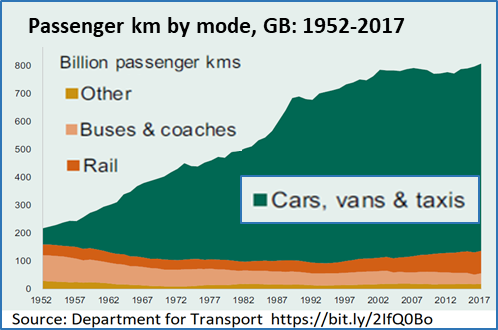 The use of private motor vehicles for personal transport has increased dramatically since records began in 1952 and this significant rise has affected different parts of our street network in different ways: our distributor roads suffer from congestion and poor air quality, while the surrounding side roads suffer from speeding and short-cutting as drivers attempt to bypass this congestion. This isn't a satisfactory situation for any of us, regardless of where we live or travel.
We don't always think about the costs of this significant rise in car use over the years, but this creeping increase has taken a huge toll on society as a whole, in terms of public health, congestion and air pollution.
According to a recent study, children in Oxford are suffering from the effects of roadside air pollution more than in any other UK city [4]
Find out more...




Public-health related costs





Costs of congestion





Air pollution and climate change