Birmingham presses ahead with "transformative" plan to curb through-traffic
Birmingham, the UK's second largest city and home to 1.2m people, has announced its intention to make permanent and expand on measures to split the city centre into seven traffic cells to reduce the dominance of cars for short journeys.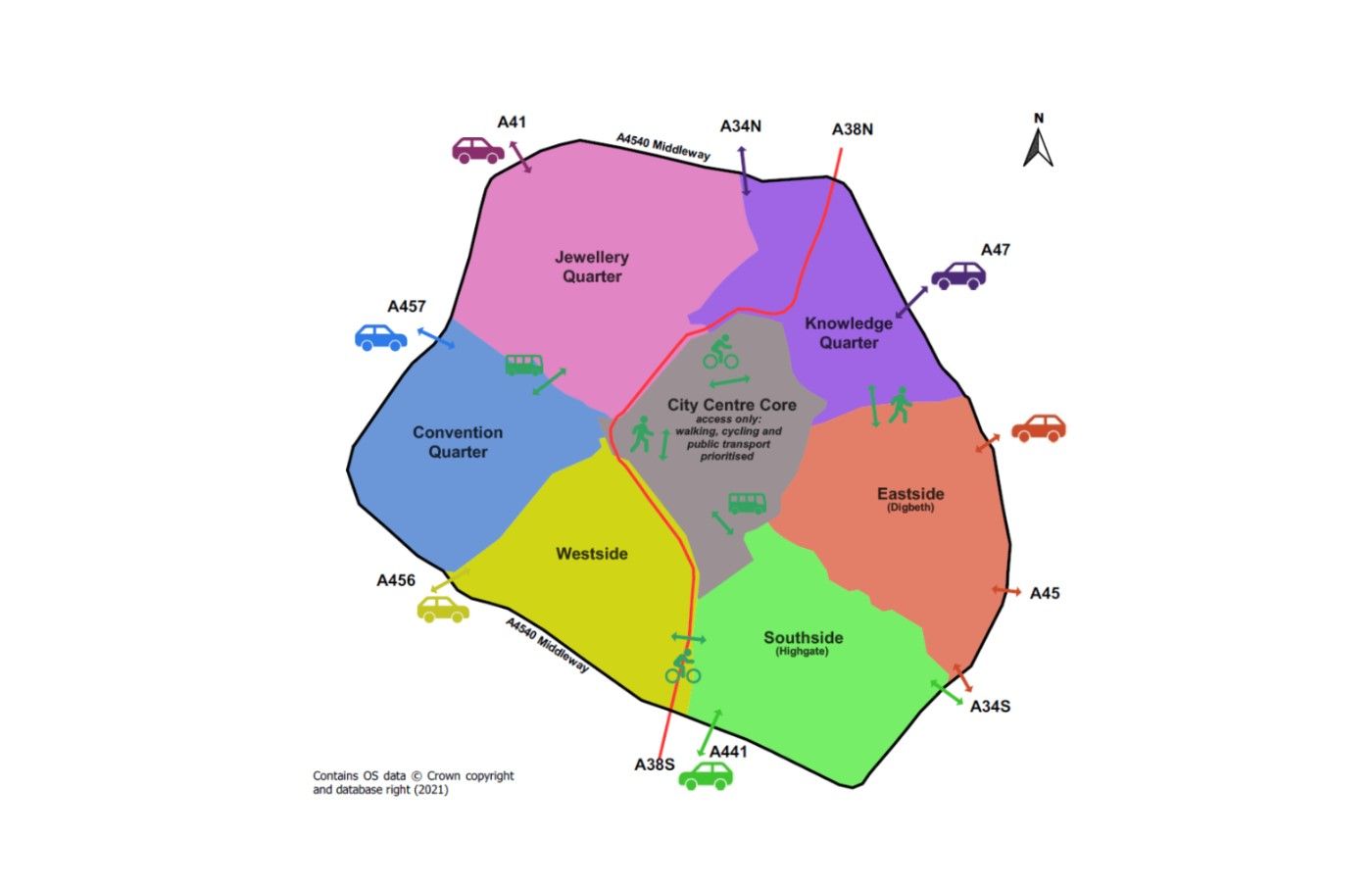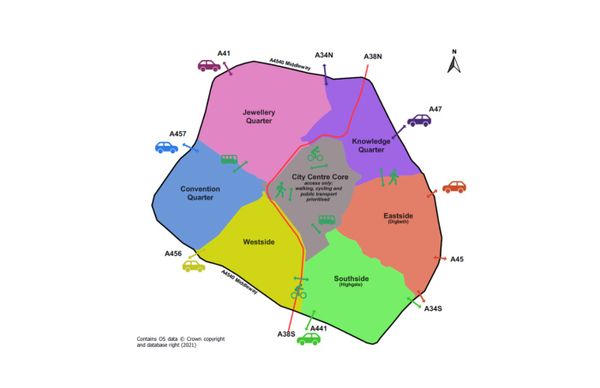 Like most other UK cities, Birmingham suffers from an excess of single occupancy car journeys. However, with 25% of the city's car journeys being one mile or less, the city council is determined to address this problem to improve the health and wellbeing of residents.
To convert people to cleaner and healthier forms of transport, the city, including the central area, will be split into seven zones, and rather than driving directly between zones, motorists will be diverted via the A4540 ring road (see more on the full plan below).
Birmingham City Council unanimously approved the plan on 12 October:
BREAKING NEWS @BhamCityCouncil cabinet unanimously approves #Birmingham Transport Plan pic.twitter.com/Pqzc0xEOE3

— Waseem Zaffar MBE (@WaseemZaffar) October 12, 2021
The scheme is an extension of the city centre segments Birmingham City Council began to implement in 2020 through the Emergency Active Travel Fund. Its intention is to create more space for people by reducing the volume of through-traffic and the dominance of vehicles in the city centre.
The city council's transport lead, Waseem Zaffar, is the driving force behind the plan and says the health and wellbeing of his fellow Brummies is his key motivation here. As a former trade union rep for Birmingham taxi drivers, he's acutely aware of the impact that sitting behind a wheel for long hours in polluting areas has on people's health, so for him this is primarily about reversing health inequalities. To listen to an in-depth interview with Councillor Zaffar on the reasons behind the plan, see below.
The shape of things to come
Birmingham has taken its lead from the success of a similar traffic segmentation scheme implemented in the Belgian city of Ghent in 2017. Introduction of Ghent's 'Circulation Plan' reduced congestion and improved mobility within the city overnight, helping it to achieve its 2030 target of increasing the share of trips made by cycling to 35% by 2019!
But Birmingham isn't the only major city to be taking positive action to shift the way we move around our cities to healthier modes. This same week, there was also news of a campaign to curb private car use in Berlin, following in the footsteps of Paris, whose plans to ban through-traffic in the city centre by 2022 are already well under way.
The transport plan currently under development by Oxfordshire County Council and Oxford City Council, Connecting Oxford, is also based on the principle of curbing through-traffic to enable public transport to flow more freely and make active modes of travel a safer and more viable option for short journeys.
"If you design a city for cars, you get cars. If you design a city for people, you get people."
Filip Watteeuw, Vice Mayor of Ghent
How has segmentation worked out in Ghent?
In 2020, Oxfordshire Liveable Streets invited Filip Watteeuw, who was instrumental in introducing the city's Circulation Plan as Vice Mayor of Ghent in 2017, to talk about the outcome of the scheme:
powered by Crowdcast
The Innovative Way Ghent Removed Cars From The City – a film from STREETFILMS on Vimeo:
Ghent's Political & Media Obstacles to Implementing the Traffic Circulation Plan – a film from STREETFILMS on Vimeo:
More about the Birmingham Transport Plan
In this interview for the Spokesmen podcast, Councillor Waseem Zaffar further explains the thinking behind Birmingham's Transport Plan (with transcript):
Additional reading on Birmingham's plans: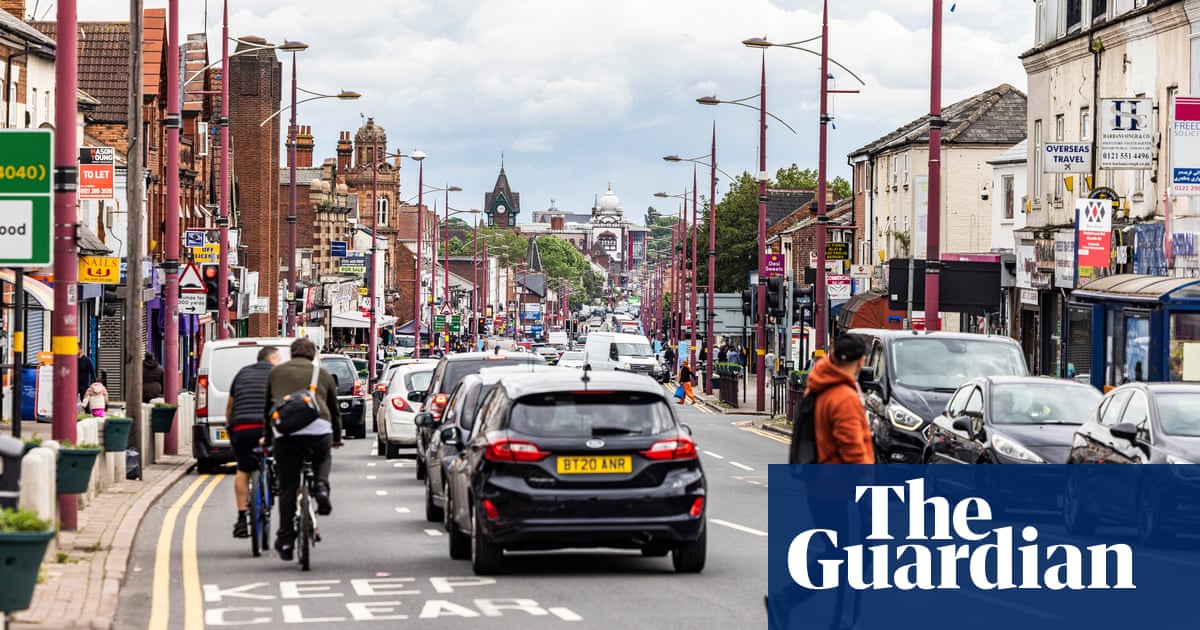 Related posts from Headington Liveable Streets: