Councils announce updated transport plan for Oxford
This week, Oxfordshire County and Oxford City Councils announced the next steps for consulting on their revised joint proposals for a sustainable transport network for Oxford.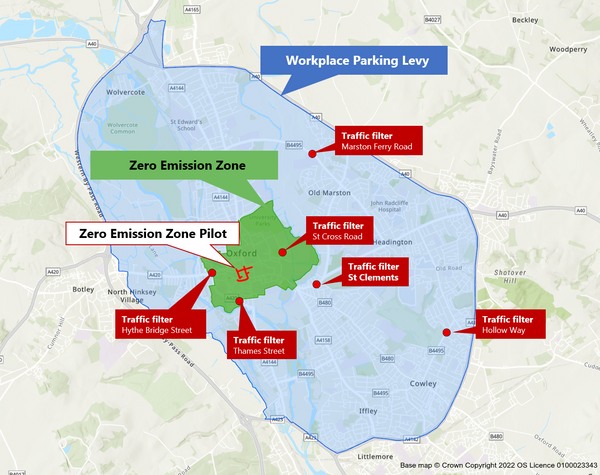 Elements of the revised proposals, which combine the Connecting Oxford and incoming Zero Emission Zone schemes, underwent various preliminary rounds of consultation in 2019 and 2020. Following a delay caused by the pandemic, the Councils have now announced a further public consultation for late summer 2022, with implementation of the schemes envisaged between 2023 and 2024.
What are the zero carbon transport network proposals and why do we need them?
The bus network in and around Oxford is long overdue some help and a rethink. As traffic volumes have crept up over the years, bus journey times have become longer and less reliable. People travelling into Oxford from towns outside the city are faced with long and unreliable journey times, making bus travel an unattractive option for them. There's also poor connectivity between different parts of the city itself, as most services are focused on the city centre.
But all buses, wherever they're coming from or going to, get stuck in traffic, which makes taking the bus unpredictable and unreliable. And expensive, because to keep to anything near their timetables, the bus companies have to increase the number of buses in circulation, which in turn adds to traffic volumes, congestion and the costs of running the services.
Oxford is caught in a vicious cycle of severe congestion caused by too many private car journeys, themselves caused by a lack of other safe and reliable transport options. Private cars are the least efficient form of transport in busy urban areas, but unless space is provided for buses to move freely we will remain trapped in this cycle. What's more, without action, the situation can inevitably only get worse as thousands of new homes are built to the north, east and south of the city. We need more space for buses to get around efficiently now and in the future and these proposals plan to address this.
Key elements of the proposals
Workplace parking levy (WPL)
Based on feedback from the preliminary consultation, the councils are proposing to extend the WPL (originally proposed for just the "Eastern Arc" of the city) to cover employers across the city. By law, money raised by the levy must be spent on improving transport in the city.
Traffic filters
Six traffic filters (up from the original five) are proposed on certain roads to reduce traffic congestion, improve bus journey times and create safer routes for cyclists and pedestrians.
Zero Emission Zone (ZEZ)
The councils propose to extend the ZEZ from the current pilot area (due to come into effect on 28 February) to cover the entire city centre.
You can find more detail on the original Connecting Oxford proposals here.
Oxford's challenges are far from unique
Although these proposals represent a radical change for us as residents, Oxford is far from the only city facing the challenges of reducing congestion and air pollution. In fact, Oxford's announcement came on the same day as announcements for similar proposals in Brussels and Cambridge, which in turn followed an announcement that Paris would be curbing through-traffic in its city centre.
Birmingham announced its plans for such a scheme in autumn last year.
These cities are basing their approach on evidence gathered from a scheme introduced in the Belgian city of Ghent in 2017. In 2020, Oxfordshire Liveable Streets invited the mayor of Ghent, Filip Watteeuw, to talk about how the scheme has worked there. You can view this interview and two shorter films about Ghent here:
The Innovative Way Ghent Removed Cars From The City – a film from STREETFILMS on Vimeo:
Ghent's Political & Media Obstacles to Implementing the Traffic Circulation Plan – a film from STREETFILMS on Vimeo:
---
More information from Oxfordshire County and Oxford City Councils:
"Today marks the start of a big conversation about how we move around the city of Oxford"

We are working with @Oxfordshirecc on ambitious plans for a sustainable and reliable transport system in Oxford ✅✅

🧵 1/ pic.twitter.com/NjEDcPaGC2

— Oxford City Council (@OxfordCity) February 18, 2022
We have announced new proposals to create a sustainable and reliable transport system in Oxford.

The plans will support people to walk, cycle and make faster journeys by bus.

Find out more: https://t.co/39mrc1q63X pic.twitter.com/0Au8Lcjh7H

— Oxfordshire County Council (@OxfordshireCC) February 18, 2022